Individual representation on work related issues
Collective representation through negotiations on pay and conditions
A system that gives you a vote on elections and on negotiations
UNISON Edinburgh Members' Benefits Day
Friday 14 November 2014 10am-2.30pm Courtyard Area Waverly Court Edinburgh
Check out how you could save up to £250 a year with your UNISON membership.
All new members joining on the day will be entered into a prize draw!
Prizes include:
KINDLE FIRE HDX
TOSHIBA TOUCHSCREEN TABLET
DESIGNER SUNGLASSESS
CROYDE BAY £75 HOLIDAY VOUCHER
SHOPPING VOUCHERS
New members joining between 14-21 November will also be entered and existing members can enter here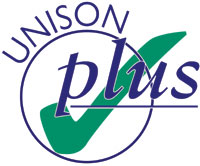 Whether you're on the job or outside the workplace, UNISON has a lot to offer its members. That's UNISON benefits - the added value of membership!
There are always new benefits and special offers coming online.


Got a problem at work? See your local steward or phone 0131 558 7488. Or contact UNISON Direct on 0845 355 0845