Cuts on top of cuts
Latest newsletter:
Scottish Government piles on £16m more cuts
UNISON fights off increment cut;
More must be done to stop compulsory redundancies,
Keeping bosses to procedures and reminder about..
Lobby of Council on 21 January at 08.45 at City Chambers, High Street, Edinburgh.
Get a PDF of the newsletter here
12 January 2016: Lobby Council Meeting
Lobby against biggest cuts in living memory
Thursday 21 January 08.45-09.45, City Chambers
UNISON is calling on members and the public to join it in a lobby against the biggest cuts Edinburgh Council has faced in living memory.
On top of 2,000 job losses, redundancies and possible compulsory redundancies, the Scottish Government has piled even more cuts on the council in recent weeks.
Essential services are being cut and outsourcing of many social care services is on the cards with all that means for pay and conditions and quality of service to the most vulnerable.
After all the job losses, the staff left behind face higher workloads and more stress trying to keep services going.
Click here for a PDF poster and put it up in your workplace.
23 December 2015: New Branch Briefing
What council cuts really mean
A run down on what council cuts really mean for members as workers and what they mean for us, our families and our services.
A detailed list of cuts and threats to jobs and conditions produced by the UNISON Edinburgh Service Conditions Team.
SPEAK UP FOR OUR SERVICES - TELL YOUR COUNCILLOR AND MSP - ENOUGH IS ENOUGH
24 November 2015: New Branch Briefing
Transformation madness must stop
The acceleration of the Transformation programme in August from five years to three years created concern but to slash this again in October to 18 months came as a shock.
The madness increased when the latest papers show that the Transformation team must complete all the staff reductions, programmes and reviews (excluding Asset Management) in the next six months.
On top of existing reviews, 28 additional organisational reviews have been announced with no chance of 'meaningful consultation'. Half of the 1,500 VERA applications have been refused. UNISON is demanding an explanation and a slow down in the process. Read the full briefing here.

29 October: New Branch Briefing
UNISON FIGHTS ON AGAINST CUTS AND COMPULSORY REDUNDANCY
UNISON wins major changes to voluntary severance
UNISON has won major changes to voluntary severance that will improve the terms, extend the time to decide and take away arbitrary deadlines for applying.
The union has also praised the ruling Labour and SNP councillors for working with UNISON to find a better way forward, despite the pressures on them. It also welcomed the support of the Green councillor.
But compulsory redundancies are still on the agenda and we must keep up that fight through industrial action if necessary.

29 October:
Hundreds turn out to tell council to keep its pledge on redundacies

Hundreds of union members and members of community groups turned out this morning to tell Edinburgh councillors to stand up for local services. Branch president John Stevenson told the rally: "If compulsory redundancies come, against the council's own pledge, it is of the councillors' own making. They are cutting too fast and they don't have to."
He also called for fairer funding for local services: "10,000 council workers require protection of vulnerable groups (PVG) clearance to do their jobs. That's how many provide direct services to children and vulnerable adults. That's what we are talking about when we are talking redundancies. It is time for the Scottish government to fund councils properly.
"Rightly there is a task force to fight for steel jobs. But where is the government task force for the 40,000 jobs lost in local government? We say to Holyrood, stand up for local government. We say to the councillors elected to protect our services, stand up for local government."
UNISON has a deputation in the council meeting. See the meeting online at http://www.edinburgh.public-i.tv/core/portal/webcast_interactive/175749
Amanda Kerr, UNISON Edinburgh branch secretary, told councillors: "Five weeks ago the committee deferred making a decision on the dropping of their pledge until there was more clarity and a clear and evidenced need for them to do so. That clarity is still not there."
"We are told that voluntary redundancy and VERA are unlikely to achieve the required numbers. We weren't aware the chief executive had a crystal ball but if he does he could maybe lend it around the staff so they can find out if they will have a job or not!"
UNISON and council staff still don't know where the redundancies are to come from as they still have not seen any structures. "With so little detail is it any wonder staff are not coming forward?", asked Amanda.
"The development of organisational reviews and the processes for staff applying for severance will all take time. The speeding up of these processes will not work and it is inevitable that in doing so mistakes will be made."
Amanda also warned about pressures on staff left behind and the vacuum left by a lack of managers: "What will happen to the staff and services left behind? With 27% of managers going who will manage these processes and support staff through them?", she said.
Staff Side Secretary Tom Connolly thanked the politicans who had engaged with the unions but slammed the pace of change as 'too fast'. The lack of information and meaningful consutation was making staff feel more vulnerable.
Tom criticised the lack of proper equality impact assessments especially when the majority of affected staff are female and many service users are disabled. "The most vulnerable are suffering from the austerity myth", he said.
Tom stressed the need for proper political control. Tom slammed the issueing of the formal redundancy notice by officials without pre-warning to the unions or the politicians.
"The trade unions expect elected members who are conveners and vice conveners ensure that their directors follow the rules of engagement We will hold elected members to account", warned Tom.
Tom said the council needed a medium and long terms strategy to protect jobs and services. In the immediate future the council needed to mitigate the effects of austerity and redundancies by making the most of low interest rates to re-finance PFI contracts and in the long term it needed to look at how it manages the financial burder of debt.
"The impact on jobs equates to a negative impact on services and on the constituents you represent", he told councillors.
Tom warned of industrial action in the event of compuslory redundancies. From now on the unions' expectation would be: "To slow the pace of cuts, ensure meaningful consultation and full elected member oversight."
15 October: New branch briefing:
Exposing myth of need to rush to redundancy. Rally on 29 October...
There is a spin being played by the senior officials that the world ends on 1 April 2016 if 2,000 staff are not made redundant by that date... click here for more...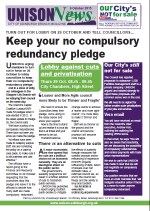 6 October: New branch briefing:
Tell councillors to stick to no compulsory redundancy pledge. Rally on 29 October...
UNISON is urging members to turn out in force on 29
October to lobby councillors to keep their no compulsory redundancy pledge. And in a show of unity, our colleagues in the Glasgow City Branch will be lobbying their council on the same day.
Council committee rejects privatisation plans
CAMPAIGN NOW TO RESIST COMPULSORY REDUNDANCIES
24 September 2015
UNISON's Amanda Kerr and Gerry Stovin address councillors
The City of Edinburgh Council's Finance and Resources Committee today rejected council officers' plans to privatise Facilities Management. The council also extended talks on redundancies for another month.

Amanda Kerr, Edinburgh UNISON branch secretary, said: "Following concerted UNISON pressure, we welcome this re-think and the dropping of privatisation plans. We also welcome the delay on redundancies, however we still have a long way to go and we will be building for a lobby of the next Finance and Resources Committee on 29 October.

"Our campaign has brought this to the public eye and that campaign will continue. We warned that the level of cuts envisaged would be devastating for services. After years and years of cut after cut, no council can sustain even more massive cuts."

Lead negotiator Tom Connolly added: "This is an important victory. The damage privatisation would have caused cannot be overestimated. The union will focus on protecting jobs and conditions, engaging with our members and building towards the lobby on 29 October."

"Our mandate from our members remains. Industrial action remains a real possibility in the event of compulsory redundancies."
Look out for more briefings in the coming days.
Time to lay cards on the table
At the council committee, branch secretary Amanda Kerr congratulated councillors on dropping privatisation plans and for not being fooled by the 'cleverly crafted document' that recommended the plans.
She welcomed the delay on redundancy decisions as an "opportunity to explore ways in which we can protect our members" but she slammed a lack of clarity in the council's Transformation Programme.
"It is time to lay the cards on the table", said Amanda, "and tell us how the council is going to look".
Gerry Stovin warned that staff left behind after voluntary redundancies need to be considered too. "Staff that do remain with be under increasing pressure, stress and anxiety. There will be serious problems for the services we all support. UNISON is not only here to protect our members but also the services we all rely upon", he said.
And he warned: "We now see from reports that we will be facing attacks on our members' terms and conditions. We cannot stand by and let that happen."
On the privatisation issue, Gerry referred councillors back to the decision to ditch privatisation plans in 2012 and explained to them why Facilities Management appeared to be singled out.
"Facilities management didn't get the opportunity to carry out the improvement programme they agreed to", said Gerry, pointing out that initiatives were blocked and more and more savings piled on top.
Responding to a councillor's question about the privatisation plans, Gerry said: "A picture was painted of full of pitfalls and dangers for our staff in Option B (the in-house option) while in Option A (privatisation) staff would walk off in into the sunset holding hands with no problems with redundancies or changes in terms and conditions and hours of work. That's not what happens in real life.
"As our president said, if it looks to good to be true it very often is".
Luckily the Capital Coalition agreed and privatisation plans were thrown out.
COUNCIL MELTDOWN PREDICTED FROM CUTS AND 'TRANSFORMATION'
Services to be slashed as 3,000 jobs set to go
15 September 2015
UNISON fears that as many as 3,000 jobs - one in every six council staff - will be slashed as the effects of the Transformation Programme and future budget cuts become clear.
"The effect on services and staff will be devastating as up to 15% of council employees could face being forced out of their jobs", said Amanda Kerr, UNISON branch secretary.
"Losing this amount of staff will decimate the services we provide and the public rely on to the point where they would be unrecognisable."
Gerry Stovin, service conditions officer, added: "We no longer believe the myth that the Transformation Programme is an efficiency driven exercise but recognise it as ideologically driven and a threat to public services.
"It is now time for the politicians to stand up for the pledges they were elected on and support UNISON in the fight to save public services in Edinburgh for future generations."
Lead negotiator Tom Connolly warned of the effect on services: "Every job lost is a service lost, a school closed, a care home closed, young and old put at risk.
"Not one report from the Transformation Programme acknowledges the effect these cuts will have on you, the services you provide, the public we serve or the local economy."
UNISON is calling for meaningful consultation and will demand that the council honours its no compulsory redundancy pledge.
It is also calling for Holyrood to step in to help.
Where the cuts come from
The Council has so far only documented 946 jobs cuts that cover three work streams in the Transformation Programme; Business and Support Services, Citizens and Localities and Channel Shift.
Further reports will detail cuts and job losses in the Asset Management strand which includes Facilities Management.
Service reviews are beginning soon and this is where we understand that targets of cutting line management by between 27% - 40% and frontline staff by 15% have been proposed.
Further cuts of £34 million will also come in the 2016 budget consultation for implementation in April 2016. These are being termed as Stop/Reduce proposals.
We are left wondering what services will be left next year for the council to reduce or stop providing.
Holyrood must act to protect services
Branch president John Stevenson called again on the Scottish Government to step in with emergency money to save services while they look at a fairer funding system.
"There has been a deafening silence on the massive cuts local councils have faced with 40,000 jobs lost in the last few years.
"Now the referendum and the election is over, the government needs to face up to the crisis and make funding available before services disappear for ever."
UNISON says 'Our City's still Not For Sale' as the threat of privatisation looms again for Edinburgh's services
As we react to the bombshell of just how devastating the cuts we face are, we musn't forget that privatisation is also on the cards despite our victory against the massive sell-off planned in 2011/2012.
In 2012, Labour, SNP and Green councillors combined to stop the wasteful privatisation of Edinburgh's services after UNISON and the wider community united under the Our City's Not For Sale banner.
Now, officials are drawing up reports for Labour and SNP councillors (who are now the Council's ruling coalition) that will put privatisation back on the agenda.
Sadly, UNISON is again having to campaign to say 'Our City's still Not for Sale' and is calling on the coalition councillors to 'Keep Edinburgh Public' and honour the pledges that got them elected.
The arguments that beat off privatisation the last time haven't changed. We said in 2012:-
"UNISON has been campaigning to keep these services in-house for three reasons.
Firstly because we think it is the right thing to do.

We think it is right that quality public services are delivered by a public service team directly accountable to the people of Edinburgh through their elected councillors.

We think it is right that our taxes should go directly to services, to the people who deliver them and the people who rely on them, rather than to profits and shareholders."
And the public agree. In a UNISON survey in May 2015, over two-thirds (68%) of respondents believe that'public sector organisations (such as local councils and the NHS)' are accountable to the public.
You can help Keep Edinburgh Public and accountable to you
Write or email to your councillor asking them if they can justify their figures
Tell them you want to hold them directly accountable for Edinburgh's services, not through private companies.